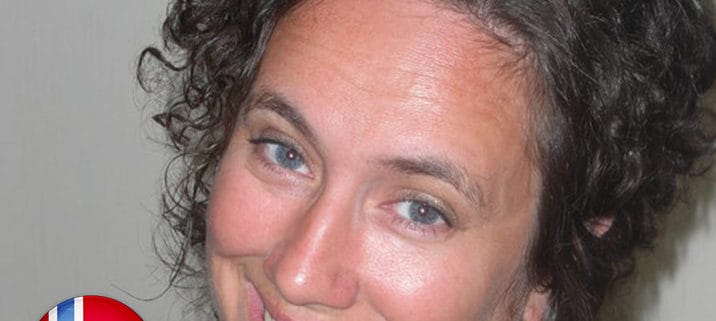 Lena Mutlak-Hamdan, Norway
I suffered from ME for 12 years. In fall 1997 my life changed radically.
Prior to ME I had 7 years with a lot of work, studying and activities. I was working full time while studying homeopathy and starting my own clinic. At the same time I was lead singer in a band – so I never, ever had a quiet moment. But I did have a lot of fun…From being a hyper-social workaholic, I now was reduced to a person only able to rest, sleep, eat, and more sleep.
I could not meet my friends or do my work any more. The only person I saw was my – at that time partner (now husband). I hardly ever even spoke on the phone with anybody. I think I was in shock. I suffered from fatigue, "brain fog", constant fevers with sore throat, chronic pain in muscles and limbs, head aches and so on…
After a long period in bed I started to work with my self. I did meditation, I went to Kinesiology, Homeopathy, I learned Reiki, but I never managed to get rid of my tendency to get fever and sore throat. So I could not go for walks, exercise, and I still had to live a quiet life, not being able to work or being with my friends for more than an hour or two. And every kind of stress lead to aggravation of my symptoms.
Finally a trainer at a rehabilitation centre recommended Russell's ME/CFS Recovery Programme to me. So after a period of consideration – I applied, and finally took part in the programme with Russell Stubbs in May. And the rest is history…. Even though I had high expectations before the course I was not prepared for the massive change.
It has been five weeks since finishing the programme, and I have not had any ME symptoms ever since…I feel completely recovered. I use the techniques I learnt every day. For me it has been essential to learn all these techniques to regain my health. They work so well together. And they really help me to keep my life and health in balance….
Russell Stubbs is an excellent trainer. He is clear, calm, enthusiastic and has a great sense of humour. He is always very professional. He has a fantastic ability to see what each and every one of us is struggling with. When you work with Russell it is obvious he has a lot of experience working as a therapist and coach. It felt very safe to make this big change in my life with Russell as Coach and Therapist.
Three days ago I turned 40, and I had friends for dinner. We sat up till 4 in the morning. And the day after I was in excellent shape. So as a 40 years old I feel in better shape than I have my entire adult life – on all levels: physically, emotionally and mentally. I am able to exercise, do yoga, I now enjoy to sit in the sun, I do hard physical work in my huge garden and I am now in a process to start a clinic again.
I am so grateful to have my life back (actually an improved version). I warmly recommend this training to anyone with ME or CFS symptoms.
Lena Mutlak-Hamdan
Lena's journey to health started with a conversation, apply here for your Free CFS Strategy Session