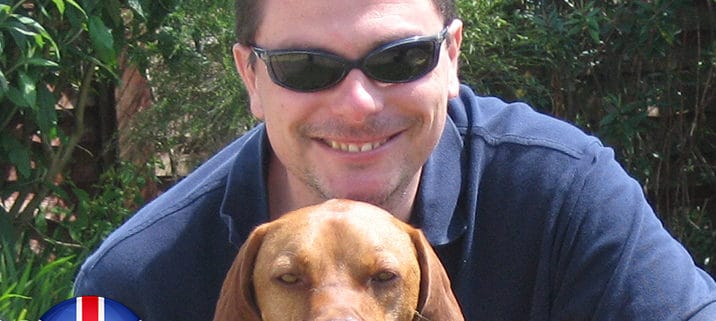 Jayson Lillington, UK
In March 2006 I was knocked off my racing cycle by a speeding vehicle whilst out training, I quickly recovered from the subsequent dislocated shoulder and associated bumps and scrapes but felt a dip in my energy levels. This worsened after a flu like viral infection and was followed a few months later by a series of ear and throat problems accompanied by nausea and vertigo.
Over the ensuing time period I visited my doctor many times as my condition worsened, my activity levels had declined alarmingly, my weight had balooned and needless to say I felt confused and concerned. After a raft of tests I was diagnosed with M.E/CFS. By this time my life had changed drastically, I was working a reduced schedule in my role as a School Sports Coordinator. I no longer socialised with friends through a lack of energy and all my hobbies such as Cycling and Golf had ceased completely.
I felt as though I had lost my identity and struggled to find enjoyment in anything. I was fortunate to be referred to an NHS run M.E/CFS clinic that helped me improve for a period of time, however this did not last and in March 2010 my symptoms returned with a vengeance. The return of the symptoms after a period of relative good health was a real hammer blow and led to some feelings of desperation. This prompted my wife to do some research on various treatment methods and allied to a recommendation from a colleague we focused on the Optimum Energy Course.
Russell's website really caught our attention. As someone with a scientific mind who had only ever used traditional methods to treat any form of illness or ailment, my wife had concerns that I would be unwilling to open myself to the tools for recovery that Russell employs. However, so much of what I was reading on his site made perfect sense and seemed to fit in with my story. I made my mind up to commit 100% to the methods on offer in an effort to improve my health.
Prior to attending the course I had an initial discussion with Russell and with his support and guidance undertook the tapping and breathing exercises as a daily regime. I got the free relaxation download and used it when I felt like it. We also did an EFT session to deal with some long standing underlying issues. The result of this was a huge improvement before I even attended the 3 day course. I originally thought I would have to stay in accommodation near the training venue, but by the time day 1 arrived I was well enough to drive to and from the training.
The effects of the tapping and breathing were noticeable in just a couple of days and in my experience are cumulative.For me using these techniques prior to the training is a masterstroke, it gave me confidence in myself and the methods to see my energy rising and my symptoms reducing so rapidly. Best of all I was left thinking if this is just the precursor how good is the course going to be?
From my perspective the course is life changing. It got me to look at myself honestly and understand the connection between body and mind in a clear and demonstrable fashion. This is really Russell's great skill, he can point out to you where you can improve in such clear and simple terms by excellent use of examples and analogy and then back this up by arming you with a toolbox of methods that bring real and rapid improvement. The results in my experience have been staggering, I left at the end of day 1 thinking – "great, i'm fixable" by the end of day 3 I thought "great i'm fixed"!
Since the training Russell has continued to support and advise me. Breathing and tapping have become part of my everyday life, a way of re-establishing calm or providing an energy shot. I also use EFT when I feel necessary. The other techniques have become second nature to me, keeping me positive and on track with my new life. I now feel I have a new and improved way of thinking and behaving. I am calmer, happier, more rational, more tolerant, non judgemental. I worry less, hardly at all in fact.
My energy levels have rocketed and I am capable of undertaking any reasonable task, this includes riding my bike again over significant distances! My friends and family have noted and commented on these changes – they really like what they see and perhaps more importantly so do I. I cannot thank Russell enough for all his help and guidance, for passing on the knowledge, skills and methods he has identified that can bring about the positive changes I mention.
In summary the whole experience is massively positive. Although the results may seem miracle like, they are in fact purely logical once you have the understanding with which Russell provides you. If I could offer advice I would say undertake it 100% and use all the tools at your disposal. Be open to these new methods and stick with them. If you are uncertain about giving it a go – don't be because you cannot lose here!
Jason Lillington, UK
Jayson's journey started with a conversation, apply here for your Free Strategy Session